TURNING POINT VENTURES
WE ARE ALL ABOUT ADVENTURE
Turning Point Venture
Located in the beautiful picturesque location of Coimbatore, Turning Point Venture is a campsite that came into existence with the objective of creating a soothing rural haven where individuals, groups and families can relax, unwind from the grind of routine life and rejuvenate their senses. Our environmentally friendly camp site caters to a wide scope of fun camps, adventure camps, family get-togethers, team building activities, corporate get-togethers, reunions – you name it and we present a perfect setting for you in our 10 acres of well-connected lush green lands.
At Turning Point, we have put in all our efforts to build a blissful ambiance amidst clean, hygienic and meticulously maintained natural surroundings. When you spend your time here, you can enjoy both indoor and outdoor activities managed by certified trainers and experienced personnel. Safety of our participants is of Paramount Importance on all adventure activities. Hence we use Certified Safety Equipment to ensure "At most Safety".While your adrenaline pumps and fills you with energy, you can relax knowing that you are in safe hands.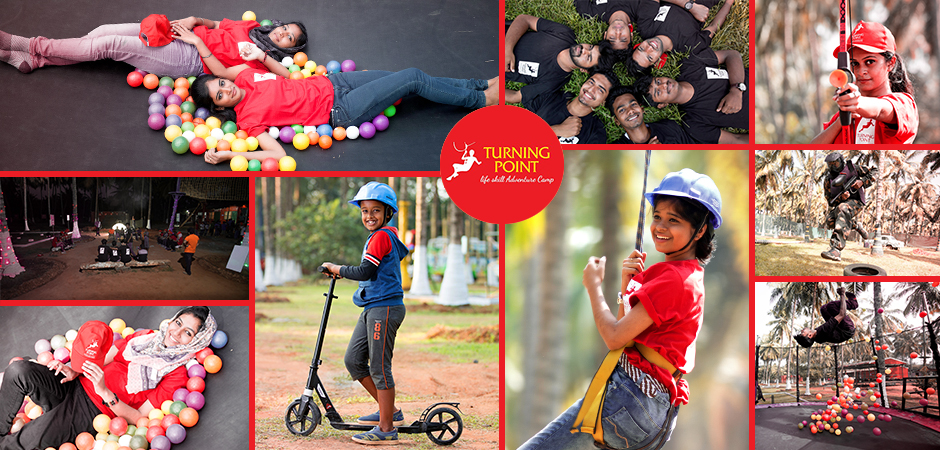 Our certified and thoroughly professional staff is courteous and believes in the motto: "Serve with a hearty smile". "You won't even notice we're here, you will do it". You deserve the best and we are in business to ensure that you get the awesome experience. No matter what happens, "Adventure" at Turning Point gives you a story to "Tell".